MCCGJA will host its parent organization, California Grand Jurors' Association, for its Annual Conference on October 23 and 24 at the San Rafael Embassy Suites. The theme for this year's conference is Celebrating Grand Jury Successes at the Local Level featuring a keynote address by Ethan Rarick, Executive Director of the Little Hoover Commission (LHC), who will bring current updates on their activities.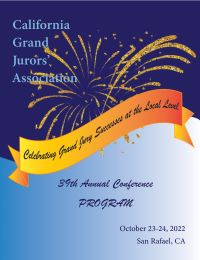 Last year's arrangements to host this event were canceled due to the ongoing Covid pandemic making it 2 years the association's conferences have been absence.
Chapter membership is encouraged to attend! The Association welcomes your membership.
Members interested in the opportunity to assist in various hosting duties, please contact Tom Borden.
2022 CGJA Annual Conference/Membership Meeting hosted by the Marin Chapter