PRESIDENT'S MESSAGE
I can't believe my good fortune. I get to make a difference in the community while having fun with a cadre of caring and dedicated friends. Nadine Muller and Jean Gunn, Co-Chairs of the Outreach Committee, are actively collaborating with that creative team to establish a comprehensive year-round recruiting strategy. John Carlson and Tom Borden, Co-Chairs of the Implementation Review Committee are leading their focused team in posting our first follow-up summaries on the newly constituted website. Gene Dyer, our website guru and my personal technical mentor, is not only creating a modern, interactive website, he is teaching Nadine and me how to help maintain that site in the future. Like the energizer bunny, Owen Haxton tirelessly focuses on clever ways to increase membership. Betty Mattea and Catherine McKown are winding down from another highly successful orientation and training for this year's Grand Jury. Nancy Frease, Chair of the Social Committee, along with her "silent partner" Sterling Harwell and the other committee members have organized a fabulous luncheon set for September 10th. The other leaders on the board – Paul Premo, VP; Peter Kiers, Treasurer; MJ Boyden, Secretary; Susan Simpson, Director; John Dower, Director; Phyllis Berger, Director; Sarah Loughran, Director; Helen Marsh, Director; and Linnea Sosa, Director – do their best to keep me from making too many mistakes and, I am happy to report, are having some degree of success in this challenge.
While you are here please visit our other pages to see our current activities and how you can participate even more.
Rich Treadgold, President 
CGJA ANNUAL CONFERENCE
The CGJA Annual Conference is looming on the horizon and it is time to think about registering for the November 13-14 event at the Marriott Hotel Burbank Airport,  The program was described in detail in the current issue of the Grand Jurors' Journal that you can access on our website.
OUTREACH COMMITTEE  
The Outreach Committee held its first meeting on August 29, 2014, during which we all agreed that our committee mission is to develop and execute a comprehensive year-round outreach program to reach a diverse pool of candidates for the 2015-2016 Grand Jury and to increase public awareness of the Grand Jury. (Please see our Outreach page for a copy of the minutes).
After the meeting, we conducted a survey of the current and past two juries to determine how they found out about the Grand Jury. The results are published on our Outreach page.
 Our second meeting will be held September 4, 2014. We have received confirmation that we will be at the Marin Senior Information Fair, on October 22 in Booth #120. The booth will need to be staffed from 9:00AM until 3:00PM. Anyone wanting to volunteer should contact Nadine Muller @ 415-662-9660
 During the past month, we have been working on an updated brochure to be given to potential applicants and attendees at the Senior Fair. We have also revised the flyer that can be used to post on public bulletin boards. In both cases, we have tried to emphasize the importance of the work, while reducing the required hours to approximately 20 per week. Many have felt that saying 25 hours+ discouraged potential applicants. Judge D'Opal would like to keep the time commitment at 20 hours and no more than 9 reports a year, if possible.
 Nadine Muller, Co-Chair
 IMPLEMENTATION COMMITTEE
IRC is off to an excellent start for the 2014/2015 year. We welcomed the following new members to the IRC. All were members of the 2013/2014 CGJ. They are: Tom Borden, John Erdmann, Sarah Loughran, Laura Effel, Marsha Hallet, Kevin Hagerty, and Helene Marsh. Several were the lead writers of the reports from that jury. I'm happy to report that they all are extremely positive and motivated to begin their IRC assignments.
 First, I would like to announce that Tom Borden has accepted the position of Co Chair of the IRC. He is very well qualified for this position, and as such will automatically be on the chapter board. In the past 3 weeks, the IRC has met with the Foreperson, Jack Nixon, and the 2014/2015 CGJ Continuity Committee. During our discussions, the IRC and the Continuity Committee have come to an agreement on what our interaction policy will be during this coming year. The most positive thing from this meeting is knowing the 2014/2015 CGJ is fully supportive of what the IRC's mission will be. We are looking forward to having an excellent working arrangement with the CGJ. The committee recently conducted a training session for the new members. Peter Kiers led the session and did an excellent job with his presentation of IRC procedures. Due to scheduling, member vacation time, and the Labor Day holiday, the IRC will not meet again until September 15th.  John Carlson, IRC Co Chair
A "SILVER TSUNAMI" IS A GOLDEN MOMENT
This is about the recent Grand Jury report on aging in Marin County entitled Aging in Marin:  What's the Plan?  Another excellent report from the 2013-2014 Grand Jury.
 Two good things came out of that report for former jurors.  One was the attention paid and given to the 2007 Grand Jury for their report on Aging in Marin– An Essay in Uneasiness and the attention the Independent Journal gave it in their report by Richard Halstead to the 2007 report and Mr. Halstead's  current use of the phrase "Silver tsunami"  to underline the importance of this report.  Of course, it didn't hurt that this report was on the front page, above the fold! 
For those of us who remember the initiator of the Silver tsunami term,  Conrad(Connie) Kloh, and for those among us who have missed the opportunity to know Connie, you can sort of get a picture of his writing style if you go back to the 2007 Grand Jury reports and read that particular one.  I do not believe he is the original writer/ investigator of the report.  I believe he was asked by a committee chair to work with another colleague to combine two separate reports into one, as the reports were apparently a good match to be combined into one report.  That is, of course, a decision the jury made and it is within their purview to do such a thing.
 It is not often an earlier report gets the kind of attention given to it by a sitting grand jury as this 2007 one was.  Kudos to the past grand jury  (2013-2014)for taking the time to research previous work done by other juries.  And, kudos to last year's grand jury for their report in the first place!
As a good friend of Connie Kloh's, who recently passed away, I am pleased to see a bit of his many contributions to grand jury reports revived and I know he would have gotten a 'kick' out of seeing the recent headline from the I-J.
Betty J. Mattea
MEMBERSHIP NEWS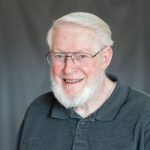 Owen reports that we now have 93 Active Members.
See his write-up on Page 2.